Double Degree in Hospitality Czech Republic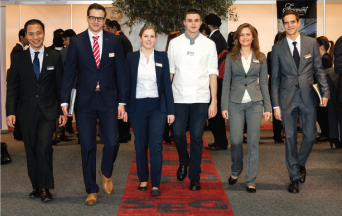 Double Degree in Hospitality and Business Administration - Czech Republic and Switzerland (3 Academic years)
Save time and money by completing 2 university degrees in 3 years with the new Double Degree program from leading universities.
Two awards from two European countries will enhance your CV, giving you international appeal.
Bachelor in Business Administration
granted by state European University - the Czech University of Life Sciences (CULS), Prague-studies in English.
Fee: 11 800EUR per 2 years
Swiss Higher Diploma in International Hotel Management
granted by Hotel Institute Montreux (HIM), a member of Swiss Education Group (SEG) - a world leader in hospitality education-studies in English;
or
Bachelor of International Business in Hotel and Tourism Management
granted by César Ritz Colleges Switzerland, a member of Swiss Education Group (SEG)-studies in English;
Fee: 24 000EUR
Paid internship in Switzerland or worldwide (4 to 6 months) - Students completing an internship in Switzerland receive a minimum gross monthly salary of CHF 2,168. Two years of living in the Czech Republic will broaden your internship opportunities in terms of work visa
Enroll into the program right after your secondary school graduation
Entry requirements:
- completion of secondary school
- English language requirement of IELTS 5.0