English for Families - Clubclass Malta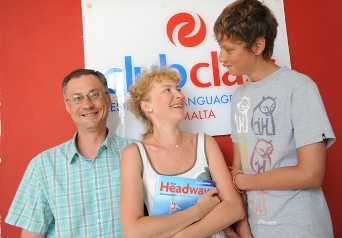 Clubclass is the only residential English language school in Malta where the school is situated WITHIN the same building as the Accommodation, Indoor and Outdoor Pools, Fitness Centre, Aerobics Studio, Games Room, Internet Cafe, Launderette, Pizzeria, Pub, Restaurant & more.
Children aged between 7 and 16 years can join the Parent and Child Programme.
This programme is for parents who want to travel with their children. Parents may follow an adult course, while their children are placed in a junior course where new language – vocabulary, everyday English, idioms and grammar – is introduced and practised to encourage real communication and rapid learning.
The children's course runs from Monday to Friday between 09:00 and 12:30, with a 30 minute unsupervised break between 10:30 and 11:00. Children will improve their English in our specifically designed course using modern interactive methods and communicative techniques. This course will also give students the opportunity to make friends and have fun in an international environment. Parents may join any of the adult courses offered by Clubclass at the time.
Children's course includes:
• Course resource fee and all taxes • 20 lessons (15 hours) tuition per week • Maximum 15 students per class(international classes) • Course material (photocopies) • Certificate of attendance • Handbook, map and SIM card.
Clubclass. Accommodation
Parents and children can either book an apartment within the same building as the school or accommodation at one of the hotels which are situated close to Clubclass Two apartment types are available in the residence - apartments with one bedroom which can take a maximum of 3 persons, and apartments with 2 bedrooms which can take a maximum of 5 persons.
The cost for the children's course is:
1 week - €270; 2 week - €460; Extra week/s - €190