The English Language Centre - ELC York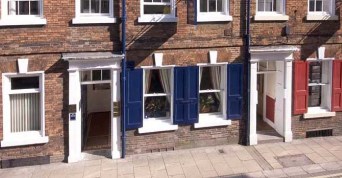 The English Language Centre York
was established in 1997 with the aim of offering top quality courses in a welcoming and professional atmosphere.
Accreditation and Professional Membership
Our English Language Teaching is accredited by the British Council and by EAQUALS. Our International Foundation Programme is accredited by York St John University. Our Teacher Training Courses are accredited by the University of Cambridge (ESOL). We are very proud to be members of English UK which is a national association representing English language providers in the UK including private language schools, colleges and universities. English UK works in partnership with the British Council to manage the Accreditation UK scheme, a worldwide guarantee of quality.
Classrooms English Language Centre York
- 18 classrooms with several Interactive Whiteboards or large plasma screen TVs with computer connectivity
- All materials and books are provided: learner diaries, course books and supplementary worksheet
Multimedia Centre
- Library of over 1000 books: graded readers, reference books, exam preparation material, novels
- 100s of DVDs
- DVD players
- 12 laptop computers with wireless internet connectivity
- Interactive whiteboard
- Selection of magazines
- Staffed by qualified teacher Monday to Friday 16:00-18:00