English Language School SKOLA Exeter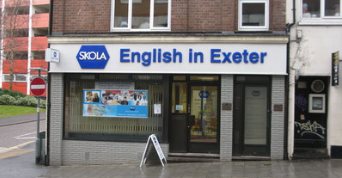 English Language School
SKOLA is an international education group established in London in 1969. As well as English language, between them our Junior Schools run international Baccalaureate programmes at primary, Middle Years and diploma levels and GCSEs/iGCSEs during the Academic Year. All junior sites have school preparation classes for lower level students and our popular junior summer programmes combine English with sports and excursions to london and South-East England. We also offer English classes to adults and parents. Study with SkolA, and Realise your potential.
SKOLA has three English Language centres for adults. Our courses can be linked with work experience programmes as well as improving your English for general, academic or business needs. All courses are run subject to demand.
SKOLA Exeter
Exeter itself is a small, accessible and safe university town and regional capital neighbouring two beautiful National Parks and the coast. The school is situated just one minute from the city centre and is close to all the facilities and services including shops and bus/train stations.