British Study Centres Oxford. Language School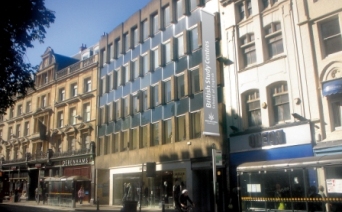 British Study Centres Oxford
is located in the very best part of the city, in the historic St.Giles district, less than 100 metres from the world famous Ashmolean Museum and directly opposite part of Oxford University. Cornmarket, the popular bustling pedestrian street with its shops and cafes is just 50 metres from our front door!
Bright Attractive Classrooms. English Language School
All 17 spacious classrooms benefit from natural light and some offer the latest advances in learning facilities, such as interactive whiteboards, which make lessons even more fun.
In the busy summer months we use up to 4 additional classrooms no more than 10 minutes walking distance from the school.
English Language. Fully-Equipped Study Centre
The study centre offers a wide range of learning materials, which will help you achieve your goal of becoming fluent in the English language.
Free Internet Zone
The computer room is fitted with 20 modern wide-screen computers and offers free high-speed internet connection. Laptop users can also enjoy free Wi-Fi connection throughout the building.