British Study Centres London School of English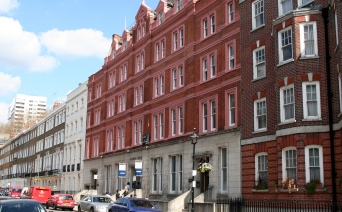 British Study Centres School of English
in London is housed on 5 floors and has 24 spacious, comfortable classrooms. In our busier times we have the use of up to 33 classrooms at our main building, Hannah House, and provide up to 9 teaching rooms at our additional centre, the School of Economic Science, located 5 minutes on foot from our main building.
The school is equipped with a university-style library and a Self-Access Centre which has a wide range of self-study material and exam practice books together with 14 computers which all have self-study programs. There is also an expanding collection of nearly 300 'graded readers' and novels along with a large selection of English language DVDs, all of which you can borrow. An experienced teacher is always there to help you with any questions you have about the books or your studies.
The computer area is fitted with 40 computers, many with headphones and webcams for an enhanced online experience, and offers free high-speed internet connection. Laptop users can also enjoy free Wi-Fi connection in the café and library.
The school benefits from its own 70-seater café with sofa area and wide-screen plasma TV, where students can relax, have lunch and socialise with friends during breaks and after lessons. Please see the menu for further details.
Facilities are shared with our Business school, West London College, which provides career training to Bachelor's and Master's Degree level (Business Studies, Computer Training, Travel & Tourism and more).
We are very proud of the number of nationalities we have entering our school each year. We taught 2600 students from over 90 countries in 2011. See table on the right for our top 10 nationalities.