St Peter's School of English - Language School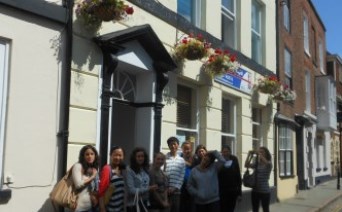 St Peter's School of English
St. Peter's School is a friendly, family run school which has been teaching English to foreign students since 1966 in the centre of historic Canterbury.
It's situated inside a beautiful, four-story building that was once a medieval bakery with an 18th century walled garden for exclusive student use with views of the stunning main Cathedral.
St Peter's is over 55 years old and has a uniquely supportive atmosphere with long serving, experienced staff. Recognised by the British Council since 1972 and are a long-time member of English UK.
The school is only 2 minutes' walk from the cathedral and the city centre with its shops, cafes, theatre and restaurants. There are seven to eight classrooms, an internet centre, wi fi throughout the school, a games room and an amazing timber-beamed recreational area with a small café.